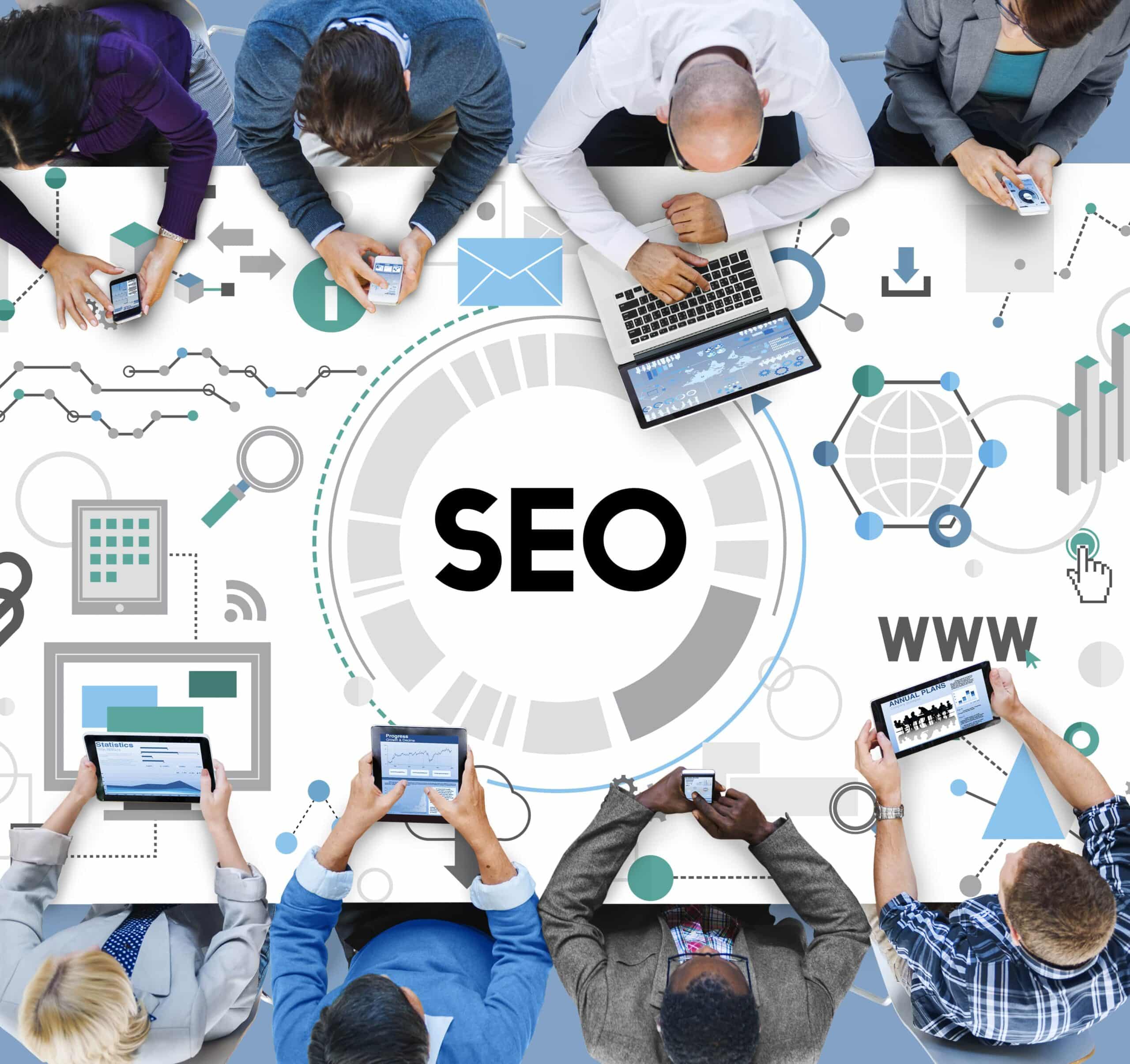 Businesses follow the current trend of work with the intent of success and attainment. Several aspects and circumstances contribute to thriving a business. Greater visibility and premium quality user experience lead to success in multiple directions. Search engine optimization is one of the vital components to attract users to the online platform. SEO is a valuable tool comprising dynamic elements, which eventually are crucial means to generate traffic to the website. With 2021 ending soon and changing SEO developments, every business looks forward to uncovering the top SEO trends for 2022.
Understanding this need and predicament of business personnel, we are here with every necessary information for SEO trends 2022.
What is SEO? 
In simple terms, Search Engine Optimization is a process that brings your website and content to a higher rank in Google. It optimizes your website for better visibility thus, showing your page on the top of the searches. SEO makes your pages easily findable by improving the technical configurations and content relevancy.
Therefore, following the significant elements of SEO, businesses get better exposure and high website traffic. It optimizes the SEO ranking and keeps your business a part of the current fashion. Let us check the top trending SEO tools which are going to stand out in the year 2022.
Top SEO Trends for 2022
Artificial Intelligence – With Artificial intelligence taking over every sector of the companies, you need to implement it effectively in the system for maximum gains. AI is a term collectively used for several technologies that automatically monitor your website and provide the report.
The main objective of AI is to simplify and execute things faster and easier. This intelligent algorithm smartly facilitates people with the things they like the most in online searches. The data analysis capability of AI helps in picking appealing keywords searched by the users. It also analyses the users' behavior and thus, offers an opportunity to serve them better.
Google's AI algorithm RankBrain, is coming up with many promising features that will take AI SEO to a new level in coming times. Thus, adopting AI SEO is a smart move to stay in the picture.
Mobile Friendliness – Increased reliability and handiness of mobiles have changed the perception of technology for users. Easy access to the internet and the user-friendliness of smartphones have made it essential for every website to be mobile-friendly.
In 2019, Google announced Mobile-first Indexing with the clarity that websites not supporting mobile are of no use for Google. Therefore, developing mobile-friendly websites certainly helps in getting a higher google search ranking.
To create a mobile-friendly website, optimize its design so that it automatically adapts to any screen. Another way of getting user attention is to develop the web/app for android and iOS platforms.
Long, Relevant Content – A common observation is that long, quality content keeps the users engaged with the website. Nowadays, long-form content with 2000-3000 words or more gets more attention and shares than short-form content.
Thus, in 2022, despite using little subject matter, focus on preparing long, relevant, and high-quality pleasing content. Remember, writing long-form by no means welcome anything prevalent, as it does more damages than support.
To keep the exquisite fun-reading content on your website, divide it into multiple sections and subheadings. Using H1, H2, H3 gives a structure to the article and makes it easily scannable by Google. Working on easy to share features further improves SEO.
Voice Search – With the advancement in technology, voice search features have gained enormous popularity. Google Assistant, Apple's Siri, and Amazon's Alexa have made life easier with highly innovative technology.
The popularity of voice assistants has given a new form to SEO searches. Users prefer phrases and long sentences with a voice assistant, in contrast to type searches done with short words and abbreviations.
In 2022, to improve SEO, focus on keywords that are relevant to voice searches as well.
Google's EAT Principle – The EAT principle of Google determines the quality of the content for a higher ranking. By quality content, it means the Expertise, Authoritativeness, and Trustworthiness of the substance. Google safeguards the excellence of the matter by sorting poor, misleading content and choosing dependable ones.
To make rich, reliable content for the user, it is essential to understand their needs and interests. In 2022, offering rich-quality maters is one of the vital focus areas. Sharing statistics and information sources builds trust among the users.
Therefore, in 2022, creating valuable content is crucial to achieving a good rank among Google pages.
Implement Videos – YouTube, Instagram, and Tiktok, the growth they have seen in the last few years is unrivaled. And if you are not publishing videos, you are missing out on a huge opportunity to succeed.
Surveys have shown that worldwide, people spend an average of 5-7 hours a week watching videos. Thus, creating an account to publish video content certainly is a smart move.
Describing your channel details and following the hashtags for keywords help you in reaching a wide range of audiences in real quick time. Hence, in 2022, including video SEO is a wise strategy to embrace.
Chatbots – One of the prevailing pieces of artificial intelligence is the chatbot. Chatbots are very much related to Voice Search technology like Siri and Alexa due to their functional similarity.
Basically, the chatbot is a computer program simulating human conversations. It processes human conversation independently without the assistance of the human operator. These robots increase the user experience by responding to their verbal and written queries.
Consequently, including chatbots in 2022 for active customer satisfaction and brand reliability is necessary.
Featured Snippets – Google search result displays short snippets of text based on the users' query. These snippets are automatically dragged from the google indexed pages to provide a quick revert of the search.
Featured snippets save users' time and offer greater visibility in searches, thus, promoting brand recognition.
To get your content displayed in featured snippets, providing specific answers to the probable queries is necessary. Well-prepared, comprehensive responses to frequently asked questions increase the chances of visibility to a greater extent.
Key Points – Today, SEO is eminent means of marketing and, if followed rightly, makes a positive impact on the business. In pursuit of a higher SERP ranking, following the current trends in SEO is always beneficial. Overlooking top SEO trends 2022 is thus not at all advisable for extended business growth.